Breakfast at The Watermark
Here at The Watermark we believe that breakfast is the most important meal of the day and our aim is simply to give you the best start to your day.
We endeavour to use the freshest West Country produce with free range eggs from local farms and sausages, bacon and fish all sourced locally. Breakfasts are pre-ordered the night before. This ensures your breakfast is cooked to perfection.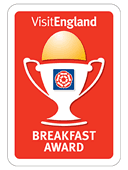 Tea
Breakfast or Earl Grey Selection of Twinning's fruit and herbal teas

Coffee
Cafetiere of Coffee Decaffeinated tea and coffee available on request

Toast
Choice of white or wholemeal toast served with Tiptree strawberry conserve and marmalade
for Starters

Choice of cereals

Fresh Fruit Platter

Choice of fresh orange juice or apple juice

Selection of freshly baked croissants, pain au chocolat

Homemade Granola
To compliment the breakfast buffet we also offer the following freshly cooked breakfast. Please choose from:
Traditional Cornish breakfast with:
Pork sausage
Bacon
Hogs Pudding (spicy West Country sausage)
Mushrooms
Fresh grilled tomatoes
Sauteed potatoes
Eggs cooked to your liking
Or any of the above combination
Baked beans available on request
For vegetarians we offer any of the above using vegetarian sausages

Eggs Benedict
Toasted English muffin topped with bacon &and poached eggs. Finished off with a creamy hollandaise sauce.
Served with grilled tomatoes
Eggs Royale
Toasted English Muffin topped with smoked salmon, avocado & poached eggs. Finished off with hollandaise sauce. Served with grilled tomatoes

French Toast with seasonal berries
Bread soaked in egg/milk/cinnamon then lightly fried. Served with fresh seasonal berries and drizzled in maple syrup.
Poached /Scrambled Egg on toast
Boiled Eggs
Smoked Haddock
Served with either poached or scrambled egg
Grilled Kippers
Served with grilled tomatoes